Sampaloc Lake
It was an awesome feeling seeing Mt. Cristobal's reflection in the still waters of Lake Sampaloc. Its water has improved, the air fresh, relaxing and breezy. It wasn't always like this, in the 80's, prolonged pollution made its water contaminated, dark , stinky, dead fishes every where – it was dying. Waste and unconsumed feeds were turning Sampaloc into one massive sewage. Fortunately, the local government and the people recovered their sense of duty for their environment and started to push for change. The strict regulation of fish pen operation was implemented. The lake from the 90's until today has made remarkable improvement. Scientist call this recovery by "self purification", meaning if you just leave  nature alone,  it would naturally recuperate.
But we're not out of the woods yet – there's still a lot of work to do. One of the stall owners near the lake said, "Hindi ko na inabot yun panahon na naiinom ang tubig diyan, pero inabot ko pa na diyan kami naghuhugas ng bigas pang-saing noong kami'y mga bata pa". This man also said that the lake was once overloaded with fish pen, this resulted to the fast deterioration of water quality. Worst, he said, some fish pen operators were even rumored to be "outsiders". Well, the lake is nowhere near its original pristine natural beauty but with everybody working together, at least we can keep it a "living lake".
According to people around Sampaloc, the lake never overflows and never dries out even in the hottest summer. This probably explains why houses and some offices were confidently built along its shore. A huge Mormon-like church was erected along the road near the shore at the base of this building shanties a few meters away from the lake.
Now, Sampaloc is flanked with lovely bamboo restaurants and lil' red sari-sari stores. For those who want to relax, this is a great place, its well-lit and a safe place during the nighttime. The stairway leading to the lake was improved by Pres. Diosdado Macapagal. The civic groups like the rotary have offices near the lake, they've contributed in the development of the parks along the lake but I must say some of the structures they've built were  eyesores. A huge tilapia monument greets its visitors, a dedication made to the Agahan couples for donating the first fingerlings that up to now has been source of livelihood to many.
Out of seven, I got to visit two: Sampaloc and Bunot (Bo. Concepcion) – both are located near the access road, less than a km apart The other lakes in San Pablo are Calibato, Pandin, Yambo, Palakpakin, and Mohicap. Local say that Pandin is the most beautiful. Not a really good batting average, next time it should 7 out of 7!
A Saintly Town
San Pablo has the highest number of barangay (barrio) named after Catholic patron Saints. They're probably not aware of this very little known fact (but then again I could be wrong hahaha). Almost all of its old barrio were either founded or renamed after a saint during the Spanish era. There must have been a tradition that created this.
The completion of San Pablo's christianization is attributed to the "vanguard of spiritual conquerors", the Augustinos and the "Fratecelli", Little Brothers as they were called by their founder, San Franciso de Assisi. After some years had passed, the Augustinian ceded its control over to the Franciscans. Like Vigan and many of the early towns of Luzon, it was founded by the brilliant "Hernan Cortes of the Philippines", Juan de Salcedo, who surprisingly did not know how to swim and almost drown in Laguna de Ba'i  when his undersized boat capsized in his desire to reach the far flung settlements of the region.
When Salcedo placed the entire area under the Spanish crown, the Augustinian immediately started their spiritual work.  The Austin friars are known for their building genius and impeccable organizational skills. the San Pablo Cathedral and their many wonderful baroque churches scattered all over the islands (resistant and solid design has survived countless natural calamities and wars) are testament to their enduring commitment to Christianize the "yndio".
Sampaloc Legend
According to local legend the lake was once a tamarind farm and was turned into lagoon by an angry fairy. Hope she  reappears and return Sampaloc back to its original condition! Its interesting to note that Sampaloc trees, which are said to have grown abundantly in San Pablo are rare nowadays. Coconuts dominates the vast farms of the city and is the province biggest industry.
Unripe Sampaloc is best for sinigang of course and this has been its primary use before the Spaniards taught us to make sweets out of the humble "tamarindo". The Mexicans called it "Tarugo" (literally means "blockhead") and we did before we call it sampaloc candy. Tarugo today have very different meaning for the Tagalogs (you know what it is!).
Patis Tesoro, a designer admired for her use of local fabric, conceptualize an itinerary called "viaje del sol", it promotes local restos and art centers in San Pablo and nearby Tiaong. If you have money and time to spare, it looks like a fun adventure for the family. As for me, the always underbudget traveler, I stuck with the buko pies and the cheap kakanin that I usually look for. Their buko pie is the best (period) and their brand of bibingka, wow! It has a very unique taste that it got from the use of dried coconut husk as "baga" for baking.
In the poblacion, near the Cathedral, several popular food chains and medium size buildings line the main the road. Everything a San Pableno could ever need is in this area. Here you'll feel like you're in the middle of the metropolitan. Its the busiest part of the town. There are old houses near the Cathedral, a lawyer owns a well-preserved American colonial. I'm a bit surprised that there aren't any bahay na bato around, to think that San Pablo is the oldest city in Laguna. There were some that I noticed when I was on my way to Nagcarlan but most are nowhere near the ones I saw in Pagsanjan.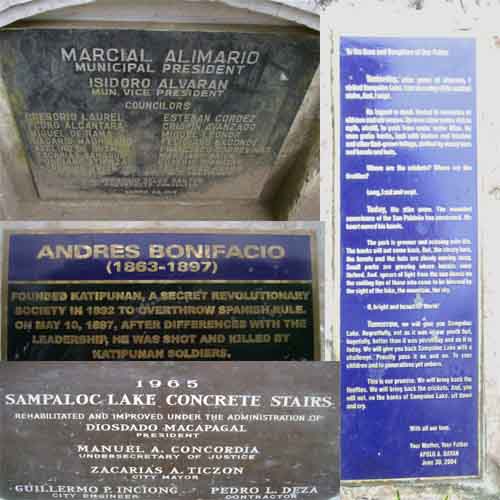 Robert Gardner wrote a beautiful piece about these heritage houses of ours that are slowly vanishing from our landscape, thanks to some of our kababayan's ignorance and lack of appreciation to their ancestors and our Hispanic traditions. While our neighbors, Vietnam and Singapore are working hard towards conserving what's left of their heritage structures, we're busy disposing ours.
—