Nothing could be more dispiriting to a heritage advocate than seeing centuries old churches turned into piles of rubble. I don't know what to make out of this cataclysmal tremor. Maybe I was so used to seeing people dismantle historic religious structures that I never thought that God could take them away too.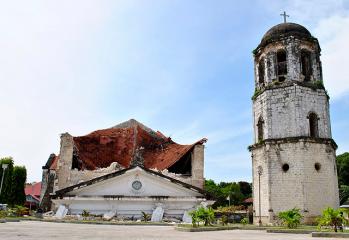 Internet has some unbelievable images of the earthquake's aftermath. They're still experiencing some strong tremors down there, so let's continue praying for our Visayan countrymen. There are donation drives–let's do some good work and help out.
—
I remember visiting the church of Loay back in 2009. Not as old as Baclayon and Loboc's (completed around the 1820's) but definitely unique in its architectural form—I've seen nothing like it in the region. The frontage is most interesting. Historian Benjamin Layug describes it having "an inner and an outer three-level portico-facade with semicircular arched main entrance at the first level, rectangular windows on the second level and a low triangular pediment topped by allegorical figures."
Sadly, the church's facade completely collapsed last Tuesday.
—
I can still recall the day I first saw the church of Loay. It rained the entire night (I was staying in Tagbilaran) so I hesitated to go out the next day. But I decided to go that cold morning–visiting Loay and the surrounding towns–all the way to Carmen. Looking back, if I chose not go that day I would've  regretted it for the rest of my life because some of the structures I saw then are no longer standing today.
Once in Loay I started walking aimlessly. I  had no clue where this church was. Then I saw this old lady walking alone. Walking so slowly. I thought it a good idea to follow her. Tailing this old lady led me to the steps of Loay's Church of the Holy Trinity. She must've been coming to the church her whole life. I hope she gets to see it rise again.
—