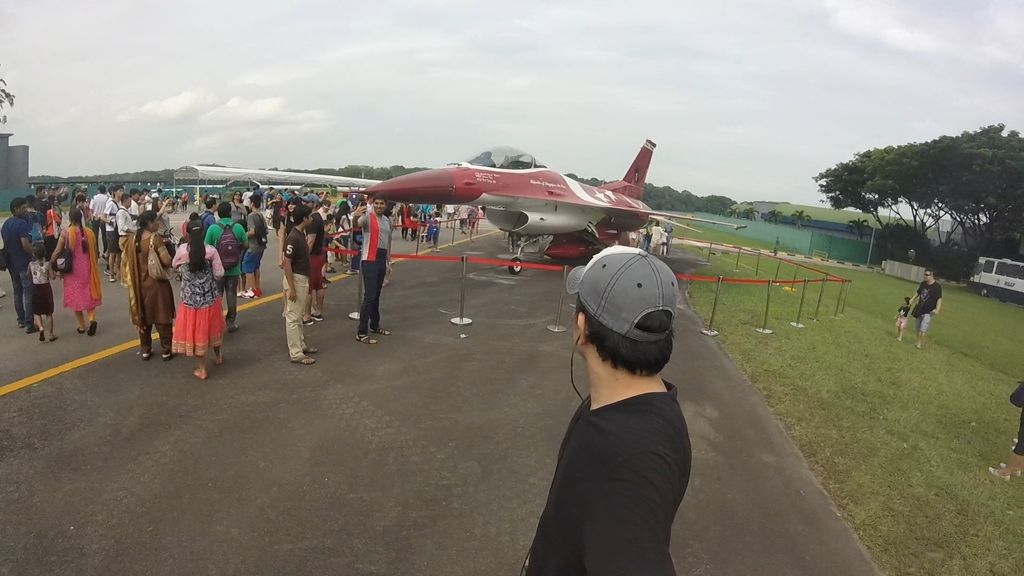 I visited the Royal Singapore Air Force museum in 2011. I heard then that the RSAF use to have a yearly  "air show" but that it had been put off indefinitely. It made a comeback this year. I thought I should see it. Who knows if they'll have one again next year.
I'm a huge aviation fan and I try to see air shows and aviation museums when I'm near one. Not many know that the Philippine Air Force have a museum in Villamor near NAIA Terminal 3. There's not much to see but the effort is laudable considering our military is cash strapped. The museum traces its beginnings in 1974 during Marcos' rule (actually then it was called Marcos Museum).
The joke since I was a boy was that Philippine Air Force is all air, no force. Thanks to the intensifying tensions in West Philippine Seas we're slowly building back air power. We recently bought Korean made FA-50's. At least we're back in the supersonic age.
—
The RSAF open house's in Paya Lebar Air Base lasted for two day and was attended by some 400 thousand visitors. The biggest attendance in its history.
There's no direct transport that goes to the base but you don't worry about this here. Singaporeans are masters in securing and running events. The organizers paid dozens of private buses that shuttled people in and out of the venue.
The static display gave the public the chance to inspect the RSAF assets.  They even allowed visitors to sit on the cockpit of the F-15s and F-16s, the Apache, the Seahawk, the Chinooks, the C-130s and the Stratotanker KC135.
I remember having a poster of an Apache attack helicopter when I was in my teens. I have never seen one up close until last Sunday. So I joined the long line, together with some kids, to get a closer look.
I recall a Zamboangeño friend who had a brother-in-law in Armed Force of the Philippines. He would occasionally hitch a ride in one of the PAF's C-130 from Villamor Air Base to Zamboanga back in the 90's. I asked him if I could try and we were cleared to go except my Mother threatened to suspend my allowance if I did. Zamboanga and Sulu is a place no parent wanted their children to see even now.
The highlight of the show was how RSAF demonstrated their ability to go airborne in just minutes to intercept an unknown aircraft. The scramble demo involved two F-15s and two F-16s. Remarkable high level performance topped with aerial acrobatics.
Singapore has a 719.1 km² land area, smaller than Marinduque, but it has the biggest air force in South East Asia. According to experts, they're the "best trained, led and equipped in the region." 
—
There's a reason why the smaller nations is spending more in military hardware than its neighboring countries. Bigger nations naturally coerce and influence what they perceive to be weaker states around them. History tells us this to be true.
We don't need to look far—read what's happening in the West Philippine Seas.
I tell people that the Scarborough now guarded by the Chinese coast guards is so near that Zambales fishermen frequents it—I heard this from some of them. The Chinese recently placed buoys around the shoal and there's nothing we can do but to express our displeasure. Our neighbor is literally in our doorsteps and we can't get rid of them.
In the 1990's no foreign military vessel would wander off in Scarborough. The US, with their air bases in the area then, routinely went on target practice there. Truth is we won't be getting what we lost anytime soon. We can only hope to continue building our military to defend what's out there, what's ours.
Let's learn from the Singaporeans.